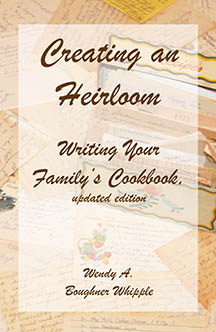 Several years ago, I compiled my family's recipes into a cookbook. I didn't find much guidance for doing so, and after I made a few mistakes along the way, I decided to write my own book, to help people like me avoid making the mistakes, and hopefully making their journey much smoother.
For more information about my nonfiction title, Creating an Heirloom: Writing Your Family's Cookbook, visit the website.
It's available in paperback and Kindle editions at Amazon.com.
---
Currently in revision, a dungeon core (light fantasy) novel (book 1 in a series).